Unique Wedding Wooden Ring Box Ideas
Giving a wedding ring to your beloved couple is a precious moment. You have to make the process as memorable as it can. One of the simple things to do is preparing a stunning wedding ring box. Using a wedding wooden ring box is a good idea. Check the wooden ring box ideas below to give you more references.
Wooden Ring Box with Hearts Ornament
A heart is the symbol of love. So, combining a wooden ring box with a heart ornament is great. The wooden material will make the ring box look rustic, natural, and simple. The heart ornament expresses the way you love her so much. You may combine with colors that represent love, such as red, pink, or white. This simple box will make your beloved couple happy at your wedding party. Imagine her expression when she opens the wedding ring box.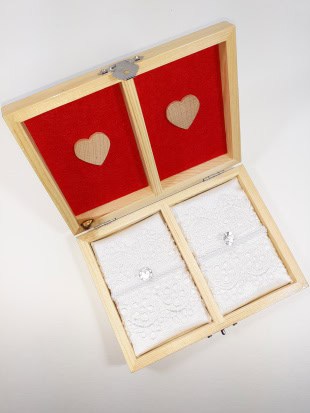 White-Painted Wedding Ring Box
You may take a white-painted wedding ring box for a more elegant option. Make the ring box a little bit different by using a transparent material on the top and other additional ornaments. White represents purity. It seems to represent the pure love you have for her. White also looks clean and classic for a ring box. Adding other ornaments are perfect to make it more impressive and attractive to see. For example, you can put two pink or red roses on the box to hide the wedding ring. A red ribbon on the box opener will make the box look elegant, simple, and eye-catching. Indeed, your beloved couple will surprise once she opens the ring box and takes the flowers away.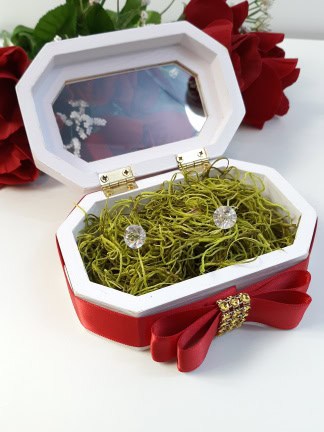 Beauty and the Beast Box
Do you want to create a wedding wooden ring box with a specific theme? If it is so, you can try to use beauty and the beast as the theme. Remember the clear dome that the beast uses to protect his rose? How about transforming the idea into reality? Use the clear dome as a wedding ring box. Use wooden material for the holder and combine it with transparent material for the cover. Put the wedding ring inside the dome, and you are ready to give the ring to your beloved couple. It is okay if you want to give specific ornaments to make the wedding ring box look stunning such as putting a small artificial red rose at the top of the cover. This box is simple but it represents your feelings.
Alice in Wonderland Wedding Ring Box
Alice in Wonderland is also a great inspiration to create a stunning wooden wedding ring box. Find out a stand-out item that represents the movie. A classic clock is an item that represents Alice in Wonderland a lot. Use the design of the classic clock to create a wedding wooden ring box. Customize the box, so it looks like a clock in Alice in Wonderland. A clock can also represent that you will love her every day and forever. The idea looks simple but it makes your beloved couple cry and hugs you once she opens the ring box.